Since the update 0.4.0 released on July 12th there are some new features, which I would like to summarize below:
Synchronized drafts
With the update 0.6.0 synchronized drafts were added to dewabit web. This makes it possible to create drafts that are synchronized with our server and all workstations. When saving a draft item, the corresponding images are also downloaded and synchronized.
To create new drafts, existing items can be dragged and dropped into the drafts folder or within the manage item window.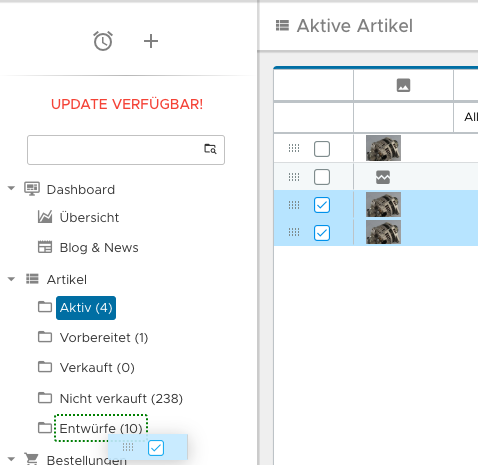 The current synchronization status is displayed in the upper right corner.
New columns
We have added more columns to dewabit web. Thus all columns are available, which are also available in the Windows client.
Of course it is possible to show and hide certain columns. This can be done by right-clicking on the table.
Improved performance with many items
If you have many items (more than 2,000), then it could take some time until the items were loaded. We have been able to improve this by sorting and reloading the items, orders and messages on the server side.
Other improvements
Since dewabit web is getting more stable, we have removed the intrusive beta warning
The number of messages is displayed next to the folders
Other minor improvements and bug fixes
---
How can you help us?
dewabit web is still in beta. We need your feedback to develop dewabit web as well as the Windows client. That's why we call: Test dewabit web and give us your feedback. Tell us your wishes and problems in the dewabit community.